Urban Strolls in the Capital of Colombia
About page : what is this site about ?
Simple : I publish on this sites photos I take along my walks or my rides in Bogotá (Colombia, South America).
Due to the Covid virus and some restrictions on urban displacements the frequency of publication is unpredictable.

STUFF :
My hardwares over the years (I use or used them as out of the box ; didn't change nothing, nor keyboard or mouse, just added some softwares)
1997 to 2003 : TUXON desktop computer : 14 inches monitor, Windows 98, AMD K6, 6 Gb HDD, 6 Mb RAM, Internet Explorer, Netscape, ClarisWorks, Irfanview. An excellent computer. Stopped working because of the high level of humidity in the country where I lived. All components rusted.
2003 to 2009 : FUJITSU Siemens desktop computer : 15 inches monitor, Windows XP SP1, Pentium 4, 250 Gb HDD, 250 Mb RAM, Internet Explorer, Works, Irfanview. An excellent computer also. Stopped working after a move across the Atlantic Ocean. I suspect it falled, which affected the hard drive.
2005 to present : Acer Aspire 3634 WLCI laptop computer : 15,5 inches monitor, Windows XP SP2, Intel Celeron M 380, 40 Gb HDD, 512 Mb RAM, Internet Explorer 8, Internet Explorer 6 portable, ClarisWorks, Irfanview. Luckily, at that time, I still had the ClarisWorks setup CD ; I installed it on that laptop and it works fine. An excellent laptop.
2015 to present : HP All-in-One desktop computer (second hand) : 20 inches monitor, Windows 10 Home, 64 bits, AMD E1-2500 APU, 1 Tb HDD, 6 Gb RAM, Internet Explorer 11, AbleWord, Irfanview. Works very fine despite its slow processor (I do not play video games, do not edit a lot my videos nor my photos).
For storage I use USB drives, a few SD cards and the hard drives of my computers ; I totally dislike CD/DVD, I even prefered VHS cassettes to those CD/DVD ; I liked floppy disks, they were a very useful and efficient storage medium. I liked a lot also the Zip drive ; in the beginning of the 2000's I had a Iomega of 250 Mb capacity ; it was a great solution for storage, it was similar to an external hard drive, worked fine but unfortunately this stuff was not trustworthy and broke after 2 years.
My Digital Cameras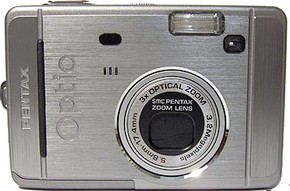 Pentax Optio S40
Purchased in 2004, still working.
This camera works fine, has a 4 million pixel sensor, a 3x optical zoom, equivalent to 35-105mm in 35mm format (I do not use the digital zoom), and can also record videos (320x240, 30fps). It works with two AA batteries ; if one don't use the flash it is ok with common batteries, but if one use the flash, rechargeable batteries are compulsory.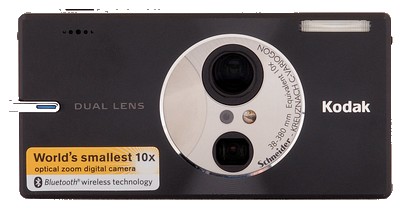 Kodak Easyshare V610
Purchased in 2005, still working.
This camera works fine, has a 6 million pixel sensor, a 10x optical zoom, equivalent to 38-380mm in 35mm format (I do not use the digital zoom), and can also record videos (640-480, 30fps). It is alimented by a rechargeable battery wich still work as new after sixteen years of use.
The only problem is that the settings for ISO speed and sharpness don't remain when you turn off the camera : they reverse to auto (default) ; in this auto mode the photos are generally slightly blurry. To correct that I use Irfanview slight sharpen effect ; if not satisfactory I use the AltaLux effect (a plugin of Irfanview) which works fine, this filter accentuate also the contrast but still remains slight enough to look as "normal" and not over contrasted or saturated.
Of course those two cameras do not deliver image with the quality that deliver current cameras. But I consider that a photo is not a substitute to reality ; the photo is a world in itself, and what it displays is the world the camera capture, which, may be, is some sort of a parallel world.
My Radios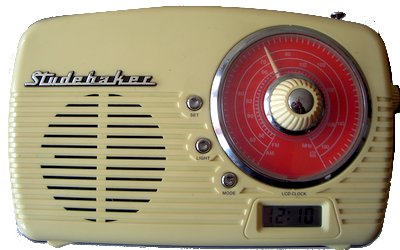 Studebaker Stude03, portative radio AM/FM ; made in China.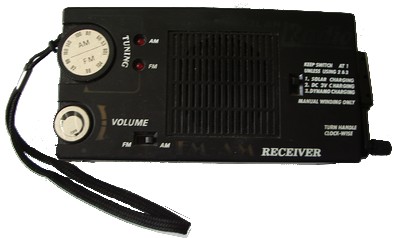 Dynamo & Solar Radio ; made in Hong-Kong.
I own those two radios for about 13 years. They work as new and have good sound. The Studebaker is alimented by batteries or power supply (220 volts, but here we have 110 volts...). The dynamo and solar is alimented by batteries, internal rechargeable battery, solar panels (on the top) and dynamo.
I mainly listen to the Melodia stereo canal, which transmits on 735 AM many and varied musics and songs (rock, pop, latina, easy listening...). It also transmits on internet ; at home, I solely listen to the radio on my radios in respect of "traditional" broadcasts, I mean music and news ; for other broadcasts, like podcasts and specific broadcasts (video games radios, for example), I listen to them on my computer.
My Radio-cassette Player : ONIDA (Japan) OJ-668DC ; no indication of origin, in fact (Japan) is part of the brand name, it does not mean it is from Japan.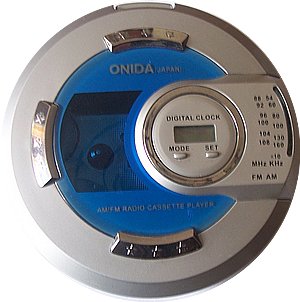 I have always liked listening to music on analog magnetic tape media, in other words tape cassettes (compact cassettes).
In 2010, I bought this inexpensive cassette player with an integrated AM/FM radio. It's a basic device but with good sound (I use cheap Sony headphones) and works very well. It works on batteries (2 AA batteries) or power supply. It has a cassette/radio selector switch, an AM/FM selector switch, a thumb wheel for tuning, a dial for playing cassette, one for fast forward cassette, one for stop, and a thumb wheel for volume level. It is a sort of walkman, so on the back it has a holding clip ; but in fact any movement affect the playing, so I use it as a desk walkman !

The Brand name is ONIDA (Japan) and I found its website casaonidajapan.com, based in Panama. On the website it is said that their beginnings were in India ; there is an ONIDA brand in India onida.com, but I don't know if they are related.
Among my small collection of tapes, I listen to a lot my four albums of the genius group The Pogues ; there are some of the best songs in the world on those tapes.
My MP3 Player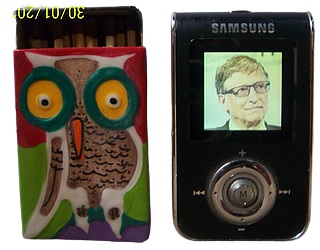 Samsung YP-T7 X
I think I bought that mp3 player between 1999 and june 2001, it still works as new. It is the size of a small matchbox. The screen is very small but has a good resolution.
It has a 512 Mb buit-in memory, plays MP3, OGG, WMA and Audio ASF files, can display JPG pictures (86x86 pixels), TXT and PDF files (pdf reader was a plugin that came later), transmits FM radio, which it can record. It is also a voice recorder. A lot of parameters are adjustable. Sort of little gem isn't it ? There was 4 models available : 128 Mb, 256 Mb, 512 Mb and 1 Gb memory ; there was a plugin for playing MPEG-4 videos on the 1 Gb model. On the photo, the player is displaying a jpg picture of the Lord and Savior of Computers and Internet
---
I'm not an artist, I'm not a photographer, I like photography ; I just take pictures that for one reason or another seemed interesting to me. When you look out the window, sometimes a scene catches your eye ; sometimes a view of the street, a building, catches my attention and I capture it in the window that is the camera.
I have some sort of nostalgy for the 90's, and beginning of the 2000',s, even for earlier times ; I like Windows 98, Windows XP, Yahoo, Geocities, Cityweb, Angelfire, HTML 3.2 and so on... As I like Chelsea boots and Beatles boots, Andy Warhol stuff, constructivism, futurism, cubism, rondocubism, the Renault 15 and 17 coupés, the Xootr scooters, the boomboxes... But don't misunterstand, I admit that actual technology has great features.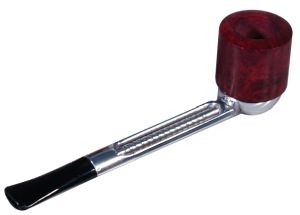 My Falcon pipe, to communicate with the Gods of the Web.